2019 Annual Youth Achievement Awards
July 10, 2019 | Read Time: 1 Min. | Inspiring Stories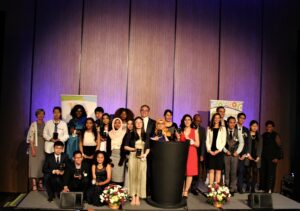 On June 7th, 2019, we celebrated our Annual Youth Achievement Awards at the Hyatt Regency. Congratulations to our 17 scholarship award winners!
A huge thank you to the Hyatt, and our Gold and Silver Sponsors, Strategic Group and Shory Law. Thank you also to our other sponsors and donors and all who made this event possible. It was a great success!

As we we enter our 30th year of service, we will be awarding 30 scholarships in 2020.