2019 Volunteer Recognition Event
April 15, 2019 | Read Time: 1 Min. | Awards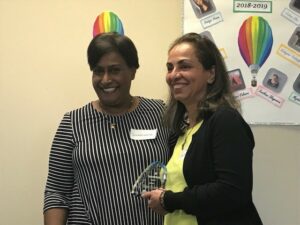 On the 12th of April, during National Volunteer Week, CBFY celebrated the Annual Volunteer Recognition Event to recognize and appreciate our volunteers and their valuable contributions. The evening was filled with motivating stories from some of our volunteers who shared their experience of volunteering with CBFY, speeches and delicious food.
We presented the CBFY Volunteer of the Year Award to Katayoun Yazdanfar for her contribution and dedication in supporting the settlement and integration of immigrant and refugee youth and their families through volunteering at the reception centers of the In School Settlement Program and tutoring high school youth for the RBC Youth Empowerment Program. We also recognized 8 volunteers who were nominated for the Volunteer of the Year Award by CBFY staff.
CBFY Volunteer Resources Program was created in 2016 and currently has a pool of 236 volunteers including the Board of Directors. Since 2016, our volunteers have contributed 11,501 hours to our core programs and different events. Thank you to all of our amazing volunteers!