Academic Success in High School
October 9, 2020 | Read Time: 1 Min. | Afterschool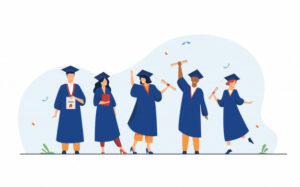 Completing high school in Canada is a rewarding yet highly demanding accomplishment. Newcomer students may find it even harder as they navigate a new system, a new culture and a new learning environment. A high school diploma will provide students with the skills and experiences that are important for any post-secondary education or employment. In this newsletter, you will find many details on the high school system, the graduation requirement, support inside the school and other relevant resources to achieve academic success in high school.
High School Credit System
High schools typically divide the school year into two parts, called semesters. Students will usually take different courses in each semester. In high school, many classes are 80 minutes long.
When a high school student successfully completes a course, she or he earns credits.
A high school course can have one, three, or five credits depending on the number of hours of instruction and the complexity of the course.
The school will help students understand how many credits they need each year. (source: Alberta education website)
Grade 10 courses are coded 10 (ex. English 10); Grade 11 courses are coded 20 (ex. English 20); Grade 12 courses are coded 30, (ex. English 30)
Alberta High School Diploma Requirements
Minimum (100 credits)
Grade 10 = 40 credits
Grade 11 = 35 credits
Grade 12 = 30 credits
Required Courses
English 30-1 or 30-2
Social Studies 30-1 or 30-2
Mathematics 20-1 or 20-2 or 20-3
Science 20 or 24, or Biology 20 or Chem. 20 or Physics 20
Physical Education 10
Career and Life Management (CALM)
Supplemental Courses (options). Credits, in any combination.
Career and Technology Studies (CTS)
Fine Arts
Second Languages
Physical Education 20/30
Registered Apprenticeship Program (RAP)
10 Credits in any 30-level course (in addition to English Language Arts & Social Studies, ex. Math 30, Chem 30, Science 30)
English Language Learners Levels (Newcomer Students)
There are five levels of language learning in the Alberta school system. For more information on the academic pathways for ELL students, please refer to pages (13-15) in this guidebook developed by CBE. The same levels and information are also adopted by CSSD.
Level 1 Beginning: You will develop basic communicative English skills with a focus on listening and speaking through a variety of interactive learning experiences. You will begin to read and write texts with familiar vocabulary and sentence structures.
Level 2 Developing: You will build on communicative English language skills in listening, speaking, reading and writing. With direct instruction and support, you will learn about reading and writing informational texts as you acquire a broader range of vocabulary.
Level 3 Expanding: Basic communication is becoming easier. You will continue to learn and develop academic language skills when listening, speaking, reading and writing. These skills will need to be further developed across high school courses.
Level 4 Bridging: You will continue to develop academic language skills with a focus on reading and writing a variety of increasingly complex fiction and nonfiction texts. You will be supported in building these skills as well as refining listening and speaking skills to help you reach your academic goals.
Level 5 Extending: You have acquired the social and academic language skills that help participate across classes. You apply language strategies and continue to strengthen the academic language skills required to interact with unfamiliar texts. You are able to speak and write about a variety of academic topics while still developing more complex academic language skills.
(Source: Learnalberta.ca)