Alejandro Rios Avila – Volunteer of the Month – February
February 14, 2020 | Read Time: 3 Min. | Volunteer of the Month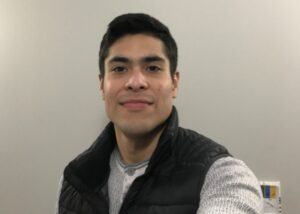 "Alejandro explains the In-School Settlement Program (ISSP) to the families that come to the reception from around the world to register their children to the Calgary Catholic School District (CSSD). It seems as Alejandro is a youth immigrant himself he sees the importance of this program and he believes this program can make a difference in people's life.
Teachers and staff at the reception centre have given compliments to Alejandro as he talks to the newcomer families respectfully and in a kind manner. The ISSP relies on Alejandro when the staff are attending trainings. Alejandro always shows up for his shift on time" – Norma Herrera,
In-School Settlement Program Supervisor.
Here is Alejandro's story:
"My name is Alejandro Rios, I am originally from Mexico but I have been living in Calgary for six years. Since I was a child my parents taught me about the importance of respect, empathy, and solidarity. My father was a lawyer who enjoyed helping others, he believed in honesty, integrity and the principles of the law and he instilled in me the same values. Moreover, I grew up in a large family with lawyers and judges, so I can state that law has been a great influence in my life.
Moving to a different country was a difficult process and a big step for me; however, I do not regret it. I attended the Faculty of Law in Monterrey, Mexico for three years but due to my immigration to Canada, I had to make the choice between finishing my studies or immigrating. After analyzing my options I decided to immigrate to Canada. My first year living in Calgary was full of new experiences and feelings, from the changing weather to its magical scenery. Thanks to the support I received from different groups in university and Calgary residents, I was able to succeed in my university and social integration.
In 2019, I decided to give back to the community a bit of what I received from it. Hence, I started volunteering for the Calgary Bridge Foundation for Youth (CBFY) at St. John Reception Centre of CSSD, where I have been able to follow my passion for helping people. Volunteering for the CBFY has been a great opportunity to enrich my knowledge of other cultures, traditions, and practices. Furthermore, interacting with people from different cultural backgrounds has provided me with the experience that has complemented my undergraduate Degree in International Relations.
I feel a strong connection with CBFY as an agency that helps newcomers facilitate their settlement and integration into Canadian society.
Being an immigrant myself, I know the feeling of being new in a country with different social, cultural and political practices than oneself. I know the purpose of my life is to help people pursue their life goals. For this reason, I feel very thankful for the impact CBFY has had in my life and the opportunity I have to serve my society." – Alejandro Rios Avila.