Armeen Rashidian – Volunteer of the Month – June
June 8, 2020 | Read Time: 3 Min. | Volunteer of the Month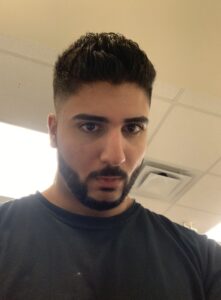 "As Armeen's supervisor for the past two and a half years, I have observed him directly as he tutors immigrant and refugee youth in the RBC Youth Empowerment program. Armeen volunteers at John G. Diefenbaker High School in the program one day a week and tutors biology, physics, math and chemistry. This program is designed to help students to become independent learners, improve their grades, build their social skills, develop confidences, and promote the importance of post-secondary education. During his time volunteering, he works in a tutoring team to support 20+ students who required help in various subjects at different grade level and levels of understanding. Armeen is very professional and always on time and dresses appropriately.
He is dependable and I can trust him to do a great job. Armeen is very dedicated to both his volunteering and his school work. He is willing to ask questions if needed and keeps up with emails and communication. He is an appreciated team member but also works well independently. He relates well with students but maintains professionalism even though they are close in age. His speech, appearance, and demeanour all speak to his desire to project a professional image within this volunteer position"
—Catherine Clark, Afterschool Program Team Lead.
Here is Armeen's story:
"My name is Armeen Rashidian. I am a 4th-year student at the University of Calgary where I am finishing my BSc in Cell, Molecular and Microbiology. Since a young age, I've had a passion for helping others and giving back to the community. I also love using my knowledge and experience to leave a meaningful impact on students of our city.
Volunteering as a tutor at CBFY has allowed me to work with many students of immigrant and refugee status who have recently arrived in Canada. As a volunteer, I mainly tutor students in Biology, Math, Chemistry and Physics. It is deeply satisfying to me to be able to use the knowledge and expertise I have in these subjects and help those who need it. As I've built deep friendships and bonds with our youth, other volunteers and the wider CBFY family, I take pleasure in contributing to a positive learning experience for our students, improving their grades and easing their adjustment to their new academic life in Canada. As a tutor, I strive to be a role model for our youth and hope to inspire them to reach great lengths through their academic careers and future adulthood. As I thank the CBFY staff for granting me this recognition, I hope to continue volunteering with our students and contribute to their future academic success" Armeen Rashidian.
Learn more about our volunteer opportunities here.