ASP Refugee Project
June 29, 2016 | Read Time: 2 Min. | Afterschool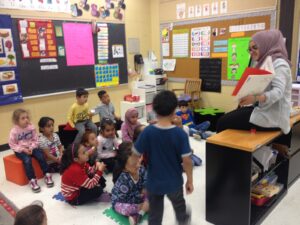 Our Afterschool Program (ASP) works with immigrant, refugee and newcomer youth in elementary, junior high, and high school. ASP strives to build a strong sense of community and belonging, while promoting social integration and acceptance. Students are given the opportunity to build essential life skills and friendships, and are encouraged to celebrate their culture as they learn more about their Canadian identity. The mandate of all ASP programs is to build resiliency by providing youth with opportunities for physical activity, social integration, community engagement, social awareness, and English language skill development.
In response to the recent influx in refugees, the Calgary Bridge Foundation for Youth (CBFY) received a grant from the City of Calgary, Family and Community Support Services (FCSS) which was utilized by enhancing ASP programming. Additional Arabic speaking staff were hired to better meet the needs of newly arrived refugees. Working in partnership with the Calgary Board of Education (CBE) and the Calgary Catholic School Board (CSSD), various programs were delivered during the academic year for both elementary and high school youth. These programs focused on English language skill development through conversation and educational games, life skills such as wayfinding and healthy eating, and positive social development.
To further accommodate newly arrived refugees, ASP increased the capacity of Bridge Summer Program and hired a group of diverse and culturally competent staff to help immigrant and refugee youth transition into their new life in Canada. Summer program locations are strategically placed in northeast, northwest, and southeast Calgary. ASP has registered over 585 immigrant youth this summer, with approximately 25% newly arrived refugee youth, who were registered at no cost. Despite the increase in capacity, locations filled up and ASP is still receiving a high number of inquiries from families looking to register in Bridge Summer Program.
In addition to accessible programs, refugees can also take advantage of ASP community events throughout the city. This summer, ASP will be hosting its signature summer community event, "Bridgefest", where families and the youth will have various opportunities to participate in recreational activities, access different agencies and resources, meet other immigrant families, and integrate into their communities.
All refugee programming will continue to be offered free of charge for another academic year supporting schools and communities with high concentration of newly arrived refugees.