Aydin Ivan Herik – Volunteer of the Month – June 2021
June 8, 2021 | Read Time: 1 Min. | Volunteer of the Month, Volunteers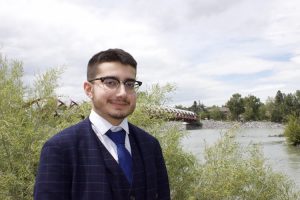 "Aydin has been a hard-working, flexible volunteer ever since he started tutoring with NxtGen Homework Club. When we needed him to fill in for other positions, and tutor every subject, he has always been eager to help in any way he can. Aydin even volunteered for extra shifts when he knew he could be useful, and has gone out of his way to make sure everyone's needs are met" Alyssa Goertzen, Afterschool Program Coordinator.
Here is Aydin's volunteering story:
"My name is Aydin Ivan Herik. I am going into my second year of biomedical sciences at the University of Calgary. I actually grew up in the far east of Russia, on a cold land mass called Sakhalin, before moving to Calgary in 2011. My family moved here due to the booming oil and gas industry, like many immigrants at the time, but Calgary has been my home since then on a more fundamental level. That is, I'm proud to call Calgary and Canada my home because of the support that I received from Canadians at all levels. The Calgary Bridge Foundation for Youth is just one example of those support systems and I have been a volunteer with this fantastic organization since February, 2021.
I hope that as a volunteer tutor I can not only help youth develop academically, but I also hope to be present as a young adult that can be dependent upon for support outside of school. In fact, one of the areas that I am most passionate about is related to the mental health field. As an individual who has experienced mental illness first hand, I think that mental health advocacy and normalization is the best thing that we can do for our youth and even for ourselves" Aydin Ivan Herik.