Calgary Stampede VIP Tour
July 13, 2017 | Read Time: 1 Min. | Afterschool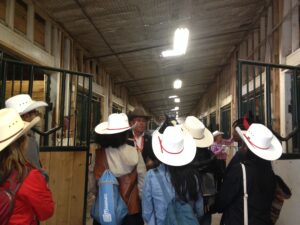 On Monday, June 10th, some of our YAA scholarship winners were given a VIP tour of Calgary's Stampede grounds. The students were introduced to the Stampede's Youth Programs, learned the history behind the Indian Village, visited the barns that held many of the horses (they even got to pet and sit on one of them!), lunch at the Grandstand and to end the tour, got to watch their popular rodeo show. Needless to say, our students enjoyed the tour!
We want to thank Calgary Stampede's Board of Directors Dale Befus for arranging the tour and showing our students around, Calgary Arts Development President and CEO Patti Pon for introducing us to Stampede's Youth Programs and accompanying our students on the tour, and Calgary Stampede's President David Sibbald. All of this could not have been possible without their help.
See more of our pictures on our Instagram page!