CBFY Annual Multicultural Newcomer Fair
November 30, 2017 | Read Time: 1 Min. | Afterschool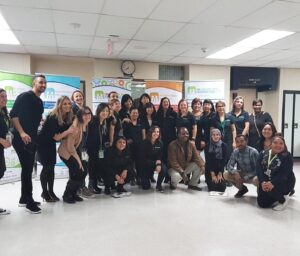 On Friday, November 24th, CBFY held its 4th Annual Multicultural Newcomer Fair at Bishop Grandin High School. In the previous years this fair was hosted by the In School Settlement Team, this year it was a collaborative effort from both the In School Settlement Team and Mentorship team. It was awesome to see both teams work collaboratively together to host one of our best Multicultural Newcomer Fair yet!
The goal of the fair was to:
Connect families and youth to community partners through engaging activities, information booths and the school

Connect families and youth to other settled immigrants by providing a safe space to share stories and experience

Connect families and youth to workshops that will help support their journey in adjusting to Canadian Society
With the help of all the programs, Bishop Grandin and the different organizations the fair was a success! A huge thank you to Bishop Grandin for allowing us to use their space and all the different organizations that showed their support for us there. The fair would not have been possible without everyone's help.