CBFY Celebrates our 2nd Volunteer Recognition Event
March 14, 2018 | Read Time: 1 Min. | Afterschool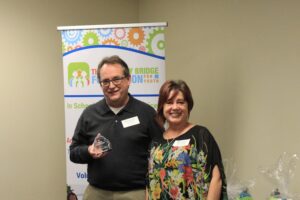 On the snowy Friday evening of March 2nd, we celebrated the second Volunteer Recognition Event to acknowledge and give back to our wonderful volunteers who dedicate their time in supporting us. The night was filled inspiring stories from some of our volunteers who shared their experiences working with CBFY, fun activities like human bingo, and delicious food! For the first time, the Volunteer Resources Program awarded a volunteer, Bruce Hewitt, with Volunteer of the Year for his dedication in tutoring high school students for the NxtGen Homework Club.
CBFY staff and clients have great admiration and appreciation for our volunteers, without them CBFY would not be able to be what it is today. Today, CBFY has a pool of over 180 volunteers that volunteer for all of our core programs!
Thank you so much, Volunteers!