CBFY Hosts Annual Youth Achievement Awards
June 6, 2016 | Read Time: 2 Min. | Inspiring Stories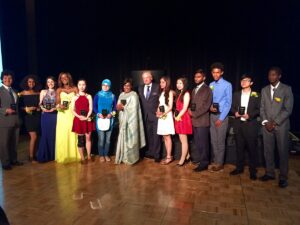 On Friday June, 3 The Calgary Bridge Foundation for Youth (CBFY) hosted the Youth Achievement Awards at the Hyatt Regency Calgary. Recognizing remarkable immigrant youth for their outstanding achievements, 15 scholarships were given to further post-secondary pursuits. With 250 guests in attendance, the evening opened with messages from his Worship Naheed Nenshi, followed by an address by Outreach Director for the Member of Parliament Darshan Kang, Imran Mohiuddin. All forms of entertainment took to the stage to showcase their talents in the form of song, dance and art. Guest performances included: The Calgary Multicultural Orchestra, AfriNation, Kala Bhavan of Calgary, the Persian Mystical Dance Group, youth piano player Tim Zhou, youth singer Ludjane Coronel, and finally a live auction art piece done by One Faraday. To further the evening, international and local guest speakers took to the podium to share their stories of success after having experienced the CBFY programs for themselves years prior.
"Achievement is neither inherited nor is it genetic but in essence it is defined by courage, perseverance, passion and resilience. Tonight is a true testament of this. The 2016 Youth Achievement Awards will create a wonderful memory for 15 exemplary young men and women who will be receiving scholarships for post-secondary education. There is no heart stronger than that of these individuals who despite all adversities have aspired to fulfill their desires to exceed all expectations and have left "footprints on the hearts" of others," says Chief Executive Officer, Umashanie Reddy.
A memorable evening for all who attended.