CBFY Receives 100 Donated Laptops
February 10, 2017 | Read Time: 1 Min. | Afterschool, Inspiring Stories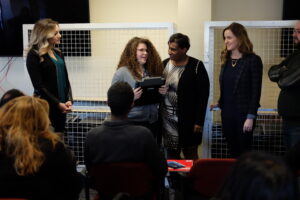 Today, The Electronic Recycling Association (ERA) donated 100 refurbished laptops to CBFY. These laptops will be given out to CBFY youth and their families. This wouldn't have been possible without Hitachi Solutions Canada, Ltd. (Hitachi), who provided ERA the laptops.
This is a huge and generous donation as it would provide low income immigrant and refugee youth and their families accessible and plentiful resources as they build a life in Canada.
Media outlets like CBC and Global Calgary were present to capture this exciting event as a few clients from CBFY personally received their laptops. Other representatives were also present from The Calgary Bridge Foundation for Youth, The Electronic Recycling Association, Hitachi, Strategic Group, Alberta's Promise and the Calgary Catholic School District.