Daniel Araya is our Volunteer of the Year
April 24, 2020 | Read Time: 1 Min. | Events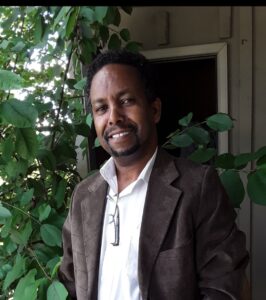 We would like to congratulate Daniel Araya for being selected as CBFY "Volunteer of the Year". This year, the Volunteer Resources Committee received 6 very strong nominations of volunteers who have shown exemplary volunteering commitment actively engaging with the clients-going above the expectation, volunteering for the community and signature events besides their weekly volunteering shifts, contributing more volunteer hours, etc. The committee selected Daniel for this year's recognition. Daniel has been volunteering for ISSP reception centre and community & signature events since July 2019 and has volunteered 136 hours so far.
After spending almost 12 years as a refugee in Kenya, Daniel Araya came to Canada in April 2019. After meeting with an In-School Settlement Practitioner of The Calgary Bridge Foundation for Youth, Daniel found out that the organization has been working in the settlement and education sector for the young immigrants. Because of his background in education and counselling and related experience of supporting the educational development of the young people back in Kenya, he started volunteering with the organization since July 2019 at Kingsland Reception Centre of Calgary Board of Education where he explains the services and activities of the In-School Settlement Program to the newcomer families and youth. This volunteering experience provided him with an opportunity to learn Canadian workplace culture, build his confidence, support his family's settlement need in Calgary, meet fellow immigrants and refugees and learn diverse Canadian cultures.
Daniel is so happy to be able to support fellow immigrant and refugee clients at the reception centre. He is so dedicated and passionate about helping newcomer youth and their families. As a result, he got the recognition of CBFY Volunteer of the Month for January 2019 and 2019 CBFY Volunteer of the Year Award. Daniel has recently started volunteering for the Eritrean community as well: "As a result of the experience gained from CBFY, I have been able to borrow certain aspects that have given me the ability to participate in the Eritrean community as a teacher to help youngsters become familiar with their native language and culture. Moreover, I have become part of this community that provides enjoyable yet educational services to various age groups."
Thank you very much, Daniel for your support, hard work and dedication to our clients and staff.