Daniel Habte Araya – Volunteer of the Month – January
January 13, 2020 | Read Time: 4 Min. | Volunteer of the Month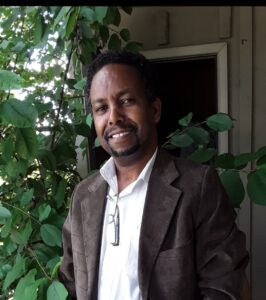 "Daniel consistently delivered a superb job in assisting out newcomer immigrant and refugee students and their families and supporting the In-School Settlement Program (ISSP) and Calgary Board of Education (CBE) staff in different ways. He demonstrated this through consistent punctuality and regular attendance at the reception center; showing flexibility in changing schedules to accommodate much-needed coverages during program-wide events and activities; and by providing additional valuable support to our program during our 6th annual Multicultural Family Fair"
Shimeles Kebede, In-School Settlement Supervisor.
"Daniel is one of the most dedicated and humble individuals I have ever met. He was working hard in separating & arranging the giveaway items for the multicultural newcomer fair. Moreover, I was able to see his knowledge and passion for introducing the ISSP at the reception center. He is very well organized and articulate in his role. Furthermore, he is a team player and never hesitates to ask for clarification from any staff and often tries hard to build his knowledge around the program"
Yonas Haile, In-School Settlement Practitioner.
Here is Daniel's story:
"My name is Daniel Habte Araya originally from Eritrea, recently moving to Calgary, Alberta. My family and I settled in Acadia neighbourhood south-east of Calgary and found a school nearby for our children. The School warmly welcomed us and we felt at home. In the school settlement process, we met a lady by the name Arnida Guillermo who works with the ISSP of CBFY. She was the one who introduced me to the Volunteering Program.
I applied for the volunteering and after an interview and short-term training, I was placed in the Calgary Board of Education office (CBE) at the Kingsland Reception Centre where ISSP provides comprehensive client centred settlement services to help newcomer students and their families in their new lives in Calgary.
I then continued volunteering at the reception center with the cooperation of the In-School Settlement Program (ISSP) and the CBE workers in a conducive working environment. I am delighted to work in this particular area as it is very convenient and makes me feel motivated to do even more. I can scarcely distinguish between the leaders and the workers as there is such harmony and as a result, drives me to lend a helping hand where needed.
As I continued volunteering, it led to interaction with various people coming to Calgary to settle and this was a great medium of bridging that corresponded with my educational background which is Education and Counseling Studies.
When I was formerly residing in Kenya, Nairobi, I was engaged with different communities such as teaching and offering counselling services to high school and university students as well as orphaned and underprivileged children. For me to find an opportunity to serve diverse ethnic backgrounds here in Calgary is really matching with the experiences I was in and want to continue passionately for the rest of my life.
Furthermore, I got an opportunity to volunteer in the preparation and interaction of a multicultural fair for newcomers which was organized by the Calgary Bridge Foundation for Youth. This chance also opened another door to interact with various people that enhanced my socialization process. I am indeed very fortunate to be involved in such areas of engagement that give me a platform to develop my expertise.
To sum up, I am indebted to all those of whom contributed to my involvement in serving humanity and would also like to encourage others to get involved in such contributions to the community. As earlier said the volunteering has given me an opportunity to develop my skills and interact with various people and communities. I will see to it that I continue in such involvement opportunities in the future!"
Learn more about volunteer opportunities with us.