Derek Phung – Volunteer of the Month – December
December 11, 2020 | Read Time: 1 Min. | Volunteer of the Month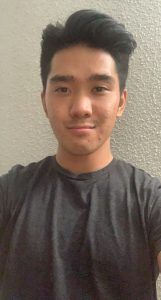 Derek Phung has been an exceptional volunteer in the Transition into Post-secondary program (TIPS). Derek has gone far and beyond to meet the needs of the youth (Christian Hipolito) in the program by offering guidance and mentorship on the following topics: career planning, postsecondary application, job market of specified career paths, post-secondary school system and so on.
Derek has also connected his mentee youth with an alumnus from the postsecondary institutions that he is interested in applying to following the completion of his high school diploma in 2021. Derek has been the most exceptional of the TIPS volunteers that we have this year and is deserving of this volunteer award" — Onyekachi Nwoke, Senior Youth Worker, Mentorship Program.
Here is Derek's story:
"My name is Derek Phung and I graduated this spring semester with an Honours degree in Psychology and a minor in Philosophy. Temporarily freed from my academic commitments, I decided to use this free time to translate my beliefs in community engagement into concrete action and began volunteering with various organizations, one of which was the Calgary Bridge Foundation.
I chose to volunteer with the Calgary Bridge Foundation because the mission of this organization aligns closely with my life trajectory. My parents were refugees that fled the Vietnam war who never completed high school in their nation of birth, and their parents fled China when World War 2 broke out. As such, my sister and I grew up here as precocious children whose lives were profoundly shaped by the personal, institutional, and cultural resources that my parents had and did not have access to. My upbringing made me acutely aware of the myriad of material, interpersonal, and intrapersonal barriers that families like mine faced, and all the cracks and blind spots that existed in our societal institutions. Some combination of hope, anger, defiance, a sense of duty, and a desire for justice that emerged in response to this awareness motivated me to succeed academically and to work towards becoming a school/clinical child psychologist. This occupation would allow me to give the educational system, (which is so pivotal in determining the direction of lives) eyes to detect harms and challenges that the next generation faces, and to mitigate them to the greatest extent possible when that developmental window is open. My work at the Calgary Bridge Foundation is both another piece in fulfilling that greater life mission, and a step towards that profession. I aim to give my mentees the professional and personal insight, authenticity, and guidance that I needed back then and know to be necessary for them now" Derek Phung.
Click here to learn about Volunteer Resources.