Elleine Allapitan – Volunteer of the Month – January
January 25, 2021 | Read Time: 1 Min. | Volunteer of the Month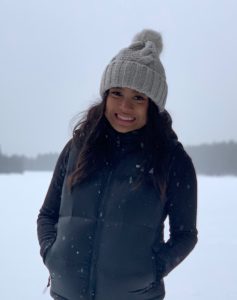 Elleine Allapitan has been volunteering in different roles at CBFY since 2019. She is selected as the CBFY Volunteer of the Month for January 2021.
Here is Elleine's volunteering story:
"My name is Elleine Allapitan and I was born in the Philippines. My family immigrated to Canada when I was 15 years old. As a young teen, moving to another country with a completely different culture and language was quite a remarkable experience. It truly changed who I am in ways I never expected. With my knowledge and experience, I hoped to make a difference in the lives of newcomer youths in the city.
I understand how challenging it can be to find one's place in a new and unfamiliar environment. As a first generation Canadian, I was the first one in my family to attend a Canadian institution for post-secondary education. I had only been living in Canada for 2 years when I started attending university. Not only was I adjusting to the life and the demands of being a university student, I was also adjusting to the new language, the people, and the Canadian culture. I remembered feeling lost, confused, and defeated. Once I had overcome my struggles and fears, I thought I wanted to share my settlement experience with the immigrant and refugee communities and become an inspiration to newcomer youths. I learned about The Calgary Bridge Foundation for Youth (CBFY) and immediately signed up to the Transitioning-Into-Post-Secondary (TIPS) Program as a mentor for two Grade 11 students who were planning to pursue architectural and healthcare studies for post-secondary education. We met up on a weekly basis, shared our settlement stories, worked on school and scholarship applications, and talked about tips and tricks to excel in university, and build meaningful connections. When the program ended and the COVID-19 pandemic started, I decided to take part in the One-on-One Tutoring Program as a virtual tutor for middle and high school students from diverse cultural backgrounds. I provided them with academic support, assisted with their English-speaking, writing, and communication skills, and offered them social support to help boost their self-confidence and promote their emotional well-being. Although I signed up as a mentor and a tutor for these youths, I could say that I learned from their bright minds as much as they learned from me.
It is with great honour that I accept this recognition from the CBFY. I will always be grateful for this organization for allowing me to become an inspiration to immigrant and refugee youths across the city" – Elleine Allapitan.