End of Summer with the Mentorship Program
August 20, 2019 | Read Time: 1 Min. | Mentorship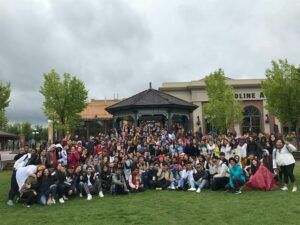 Our Mentorship program students had fun and interactive summer and we would like to congratulate 350 peer mentors and newcomer youth who registered for both the Mentorship Program's Welcome Information for Newcomers (W.I.N.) and Newcomer Orientation and Welcome (N.O.W.). Not only our students worked hard to get prepared for the Canadian school system, but they also had tons of fun! Both W.I.N and N.O.W. teams got to explore the Heritage Park and Granary Road Learning Park in August.
Also, there is a first time for everything! 41 Peer Mentors attended a full-day retreat at Sunshine Village in Banff where they got to ride the Gondola and learned about our beautiful National Parks.
Mentorship Summer Level Up program staff and volunteers supported 25 talented young students with advanced life skills techniques, focusing on social innovation and entrepreneurship. Many thanks to our local businesses Plant, Stash Needle Art Lounge, Spolumbos Fine Food and Deli, Next Pages, and the Esker Foundation for hosting our Level Up participants during their walking tour of Inglewood. They learned all about starting your own home-grown business.