Erica Lam – Volunteer of the Month
April 9, 2021 | Read Time: 1 Min. | Inspiring Stories, Volunteer of the Month, Volunteers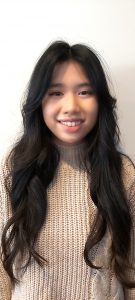 Erica Lam: Volunteer of the Month for April 2021
"Erica is matched with one of my clients to provide tutor support. I received excellent feedback and comments from my client regarding the tutor support offered by Erica. Erica is highly driven to help my client and has established a healthy connection with my client. Erica is always well prepared by communicating with client ahead of time with lessons, assignments and materials to be covered in the tutoring session. Since my client began tutoring sessions with Erica, my client's motivation is up and is always excited and looking forward to the tutoring sessions. My client's confidence to learn and grow is increased and her school report card reflects her academic progress" Samiha Faizal, Settlement Worker in School."
Here is Erica's volunteering story:
"My name is Erica. I am a third year University of Calgary student who major in psychology and minor in sociology. I am a Canadian citizen who lived abroad for more than 10 years and returned to Canada 6 years ago. Due to my long absence in Canada, I was not familiar with the Canadian culture, nor had an extensive social network that could offer me social support. Therefore, embarking on a new life in Canada was exciting but also fraught with many challenges that could be overwhelmingly fatiguing. However, I believe that persisting through adversity is an opportunity for people to grow stronger and become better equipped for new challenges. In addition, I believe that having social support could alleviate some of the stress and feelings of uncertainties associated with adapting a new life in Canada. Bearing with the intention of supporting newcomers to Canada, I have decided to volunteer with the Calgary Bridge Foundation for Youth.
I began volunteering in this organization in 2020 as a homework club tutor assistant and began volunteering as a virtual tutor since last year's summer. Having firsthand experiences with newcomer youths have been a valuable experience. I have witnessed the perseverance of many newcomer youths; their proactive attitudes in learning truly deserve awed admiration. Of course, not all of the youths that I have worked with demonstrated the same level of proactive attitude in learning. In fact, some presented a seemingly indifferent attitude towards my help. However, I believe that it is precisely this aspect that makes this volunteering experience unique and challenging. It further inspires me to ponder other ways to connect with the youth. Volunteering with the Calgary Bridge Foundation for Youth has truly been a meaningful experience for me" Erica Lam.