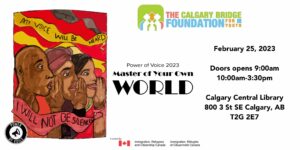 Power of Voice 2023 Master of Your Own World!
The Mentorship Program is excited to host its annual Youth Conference Power of Voice on Saturday, February 25, 2023!
The Youth Conference Power of Voice is returning once again so that we can continue to connect, learn and grow together in 2023.
This is an annual event for newcomer youth across the City of Calgary to engage them in various topics such as self-expression, mental health, resiliency, etc. The youth event will engage youth in the life of their schools and communities; strengthen and build social capacity by: brining connections among youth: encourage leadership empowerment: and raise cultural awareness and dialogue.
The conference aims to create a platform where, together, newcomer youth can develop a stronger understanding of voice, identity, and well-being.
The conference will host a series of workshops, guest speakers and performances that will empower newcomer youth to use the power of their voice to make an impact within their communities.
This year's theme is "Master of Your Own WORLD!"

Coming together, youth will create opportunities to learn and understand how they can be in charge of their own futures. Empowering youth letting to build self-confidence, and understand they are in control of their own lives. They are in the drivers seat with the power to become whomever they want to be – Master of their own world! Responsible for the choices that they make, and aware those choices impact their future.
The past 3 Youth Power of Voice events have been held virtual. We are delighted the Power of Voice 2023 will be returning in-person and will be held at the Central Library, downtown location, in the Patricia A. Whelan Performance Hall. Our staff and volunteers have arranged an amazing return of Power of Voice for our youths. An amazing lined-up of speakers and performers to inform and entertain participants!
Join us and hundreds of other youth for a day of celebrating diversity, connecting with others, and gaining tools to support belonging and thriving in our diverse world with energy, empathy, and enthusiasm.
Acknowledgements:
The Calgary Bridge Foundation for Youth recognizes the work that was poured into this event not only to staff but volunteers as well.
SWIS Mentorship Program Staff
SWIS In-School Settlement Program Settlement Workers
The Youth Advisory Council 2022-2023
And those who work for bringing the Power of Voice 2023 Master of Own World to life!
Authored by CBFY Media