Functional English Conversation Classes (FECC)
February 8, 2017 | Read Time: 1 Min. | Afterschool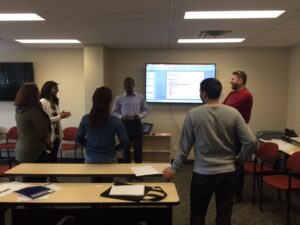 The Calgary Bridge Foundation's inclusive and collaborative approach to supporting newcomers has led to the launch of yet another innovative pilot program to help newcomers learn basic conversational English. The Functional English Conversation Classes (FECC) was launched on February 6th, 2017 at two Calgary locations: Country Hills Library in the North and the Macleod Place office location in the South.
The classes are targeted towards newcomers who lack basic English language skills in navigating Canadian society. The classes focus on practical life skills and tools required to successfully integrate in Canada. The classes are held on Mondays and Wednesdays from 12-1:30 pm at the Country Hills Library and Tuesdays and Thursdays at the Macleod Place office.
The FECC Program is an 8 week interactive program held in a small group setting to provide for building confidence in newcomers and empower them to successfully settle down in Calgary. The weekly modules are structured around social and cultural norms and interaction in Canada. For example: meeting and greeting people, interacting in a grocery store, understanding the health care system, making appointments with a doctor, dealing with money and finances, shopping and clothing, transportation system and so on.