Guilianna Mosca – Volunteer of the Month – July 2021
July 7, 2021 | Read Time: 1 Min. | Volunteer of the Month, Volunteers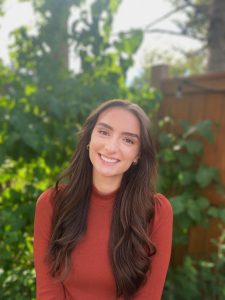 Giulianna Mosca is selected as CBFY Volunteer of the Month for July 2021. Here is Giulianna's volunteering story:
"My name is Giulianna, but those who know me best call me Giules. I am a fourth year Health Sciences student at the University of Calgary where I major in Biomedical Sciences. I am a second-generation Canadian citizen as all four of my grandparents immigrated to Canada from Italy in search of work and a better life after the second World War. As a result of their bravery and tenacious spirit, I have had many opportunities to explore and live out the Canadian dream. I work in medical research where I interact with many different patients who come from all walks of life. My work gives me the chance to learn not only about orthopedic trauma but also of the day-to-day lives of so many individuals who come into the clinic. My love to learn and desire to achieve great things for my grandparents pushes me daily to work, learn, and volunteer my time to others.
Since 2020, I've been volunteering with the Calgary Bridge Foundation for Youth as a virtual high school tutor. Working with my student and learning of their struggles and triumphs has been able to pull me out of a bad day and appreciate what this country has given us. Their excitement to learn and work for better grades has taught me more than what I have taught them. Gratitude and empathy have been at the forefront of my mind since I began volunteering with CBFY, and those traits continue to stay with me even as I am not logged into a Google Meet to tutor. Volunteering with the foundation has given me just as much as I have given to the volunteer position, with the lessons and traits that I've learned transcending the position and blossoming into my everyday life" Giulianna Mosca.