Jasmeet Khatkar – Volunteer of the Month – November
November 13, 2020 | Read Time: 1 Min. | Volunteer of the Month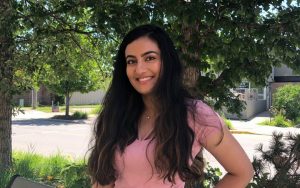 Jasmeet Khatkar has been volunteering 9 in different roles at CBFY since she was in grade. She is selected as the CBFY Volunteer of the Month for November 2020.
"My name is Jasmeet Khatkar and I am a third-year Psychology student at the University of Calgary. I enjoy working with children and youth and I plan on pursuing a career in child psychology. I have been working and volunteering with children throughout my life.
My immigration story began with my parents, specifically my mother. My mother came here wanting to establish a life for her family and it took several years of hard work to transition into a new country, a new language, and new home. Although I was born here, I know the struggles my mother and father went through to make sure that I was given a safe environment to grow up in. And for that, I am incredibly thankful. I was introduced to The Calgary Bridge Foundation for Youth (CBFY) by a friend of mine in grade six who had gone through the programs offered by CBFY, as she had recently just immigrated to Canada. After hearing her story and becoming close friends, I decided on volunteering with the CBFY and I volunteered with the Mentorship Program as a peer mentor in the Summer Programming when I was in grade 9. This opportunity allowed me to gain insight into the struggles and worries of young immigrants, as well as the small steps that can be taken by community organizations to help smoothen this process of transition.
Since then I have volunteered at annual events and other programs with CBFY. As of recent, I have been volunteering in the One-on-One Tutoring Program in which I have been tutoring students in Math, Science and Social Studies. This has definitely been an eye-opening experience in the experiences young immigrants have in integrating into new environments. I am incredibly thankful for the opportunities and experiences I continue to gain with CBFY. I am also very proud to work alongside such an incredible organization"— Jasmeet Khatkar.
Learn more about our volunteer opportunities here.