Jillian Armonia – Volunteer of The Month – September
September 17, 2019 | Read Time: 1 Min. | Volunteer of the Month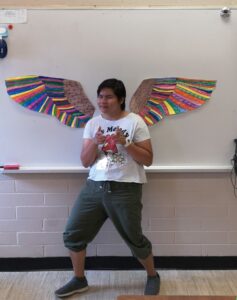 "Jillian joined the CBFY for 5 weeks of the Mentorship Summer Program and was an absolutely invaluable addition to the team. She had impeccable attendance and was always willing and ready to help. All of the Mentorship program staff knew they could count on her for anything.
She was patient even in the most chaotic of moments and she always had great thoughts and ideas to contribute. Jillian was as committed to her role and was willing to put in just as much work. Jillian was in the program every single day for 5 weeks.
She was such an asset to have in all of our classrooms and you can tell that she has the heart of a youth worker. We were really blown away by her. She gave the very best of herself without expecting anything in return. People like that are extremely hard to find. We were SO lucky to have her." – Daniela Galindo, Youth Counsellor of the Mentorship Program.
Jillian's Volunteer Story
"I moved to Calgary from the Philippines in 2012 with my family. I honestly didn't know that my parents applied to migrate to Canada until, years later, when our application was approved. I finished high school back in the Philippines, so I was reluctant to go back to high school here in Calgary. Being a newcomer, an introverted teenager, and also a closeted queer, proved to be challenging. Interacting with peers was so uncomfortable. It took years for me to be open about myself and to find my own community.
Fast forward to graduating from university, I realized that I wanted to volunteer for the summer. As an immigrant myself, I searched for non-profit organizations that helped immigrants. I stumbled upon CBFY on the internet and saw how the programs helped the newcomer youth. As I mentioned before, I was once that newcomer so now I wanted to help them out so they will be more equipped than I was when I first moved here. I applied to be a volunteer and fortunately, got the chance to do so! Summer Mentorship Program made my summer of 2019 the best one yet.
On the very first day of training, it was a lot of information to take in, but the environment was warm, welcoming and filled with positive energy, thanks to the staff. Working with the facilitators and youth counsellors was such a treat that I asked myself why I hadn't found CBFY sooner. These people worked hard to make this program a success and I am glad to be part of it as their support.
Helping the newcomer youth has been such an enriching experience. I shared my own stories to remind them that, yes, migrating is overwhelming and scary, but you will find that people here will always help you out. Supporting the peer mentors as well made such a huge impact on me. The peer mentors don't know that even though I'm the one who provides them support, they're the ones who inspire me. I listen to them talking about their dreams and goals in life and that motivates me to keep chasing my own. Adulthood taught me to be practical and responsible, but the youth reminded me to pursue what really mattered to me.
I may not be going back to school this September but I hope for all the best to those who will, especially to the newcomer youth. I also want to thank the CBFY staff for being the most awesome team ever. I am looking forward to having more fun while supporting more people with CBFY!" – said Jillian Armonia.
Thank you, Jillian, for choosing us and congratulations for being the volunteer of the month!