Junhee Kim – Volunteer of the Month – April
April 14, 2020 | Read Time: 3 Min. | Volunteer of the Month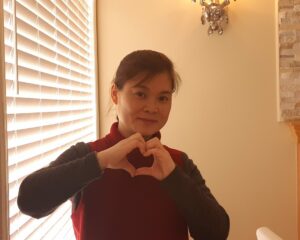 "Juhnee is a great volunteer who has been with Bridge Club for 2 years now. She encouraged and exemplified the virtue of good citizenship; she also touched or enriched the lives of students, particularly those who are vulnerable or less able to help themselves. Juhnee has shown ongoing initiative and dedication to the program. She also earned the respect of her peers at the program and became a role model to other volunteers"– Khadigah Samhat, Afterschool Program Coordinator.
Here is Junhee's volunteering story:
My name is Junhee Kim from South Korea. I landed in Toronto with my husband and daughter in 2014. We lived in Waterloo; my husband and daughter each studied at a College and an elementary school respectively while I just supported them to be comfortable as a housewife. After three years, we moved to Calgary and my husband and I started working in a small company. During the school settlement process for my daughter, I met an In-School Settlement Practitioner of CBFY, and she gave us information and resources to support our settlement. I really appreciated her and CBFY; it was a very grateful service in my mind. I have worked at a learning centre for three years and my family has been approved as permanent residents in Canada.
For the next step, I would like to work at a school because I was a teacher in South Korea and school is a very familiar working environment for me. One of my friends recommended me to volunteer to have experience in the workplace related to my future job. At that time, I came up with CBFY and started volunteering for the In-School Settlement Program (ISSP), Bridge Club and community events of the organization. I was extremely interested in working with newcomers and elementary school students.
CBFY staff always helped me not only to learn the process but also provide service to immigrant adults and children. Especially Khadigah, the supervisor of the Bridge club, encouraged me whenever I felt both hesitation and confusion due to class problems. During my participation in both programs, I was really happy and felt confident for myself when children and adults thanked me for whatever I did for them. In conclusion, this volunteering experience helped me to learn about the atmosphere in a Canadian workplace and the diverse culture and an education method in which I can communicate better with individuals. This volunteering opportunity challenged me while also giving me happiness.