Katherine Bentley-Volunteer Of The Month-May 2022
July 27, 2022 | Read Time: 1 Min. | Volunteer of the Month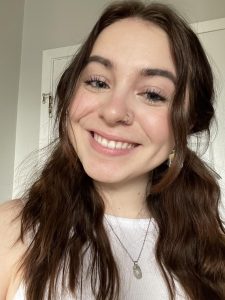 "Hi, my name is Katherine Bentley. I am currently going into my third year at University of Calgary where I am majoring in Psychology, and (hopefully) minoring in History. I was born and raised in Calgary, Alberta, and though I attended my first year of university at Queen's in Kingston, COVID-19 has caused me to pivot and keep my roots planted in Calgary.
I first heard of CBFY through my university emailing list, and immediately knew it was the kind of program I wanted to dedicate my time to. I have a passion for working with kids – having volunteered at Big Brothers Big Sisters as well as doing youth U-12 Netball volunteer coaching in high school, CBFY felt like an organization that aligned seamlessly with my values. While I have had some experience working with younger kids, the Mentorship Program that CBFY runs for high school students felt like an exciting new challenge. Though I have only been with CBFY since January, the time I spent at St. Mary's truly found a way to surprise, challenge, and entertain me week after week. While my fellow facilitators and I joked about learning Tigrinya over the summer to better understand the sneakiness of our peer group, I can only hope to further my involvement in the fall.
Outside of CBFY I work full time mowing grass at a golf course during the summer, with plans of saving up for grad school after I earn my bachelor's degree. My future career aspirations are to work in a clinical setting with youth as a psychotherapist or psychologist. I believe greatly in the strength of kids, and am so grateful to have this opportunity to have worked with such bright, energetic and kind-hearted youth" Katherine Bentley.