Kessa Den Hoed – Volunteer of the Month – July
July 10, 2020 | Read Time: 3 Min. | Volunteer of the Month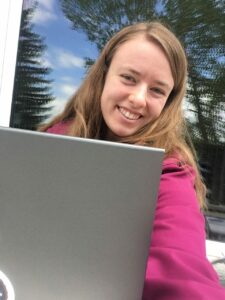 "Kessa has been tutoring one of my students who is very hard to deal with. A student has limited English and unwilling to participate in any educational activities or doing/submitting his assignments. Kessa worked really hard to get all his assignments completed and submitted in time. Kessa is very professional. She takes notes of everything that is discussed over the phone or face to face meetings, summarizes it and sends it back as an e-mail to make sure whatever was discussed is clear to both parties. Kessa has been helping us in various capacities as and when needed. She has a passion to give back to the community. I would like to thank Kessa for the wonderful job that she has done & is still doing for CBFY".
Nimisha Bhatt, In-School Settlement Practitioner.
"My name is Kessa Den Hoed, and I was born and raised in Calgary. Three of my grandparents immigrated to Canada within their lifetimes. I know that newcomers make Canada the amazing place it is, and that Calgary is a great place to call home. I grew up volunteering at Red Deer Lake United Church, with school leadership programs, and Kiwanis-sponsored student volunteering clubs like Centennial High School's Key Club and the University of Calgary's Circle K International Club. I have just graduated from the University of Calgary with concurrent degrees in Math and Education.
My Education degree was greatly enhanced by the Service Learning with CBFY. Volunteering let me get to know students and see their experiences both learning how to live in Canada AND learning school at the same time. After volunteering as a mentor with Transitioning into Post-secondary Program (TIPS) of The Calgary Bridge Foundation for Youth (CBFY) in the fall, I signed on as a volunteer tutor with the One-on-One Tutoring Program. I worked with a grade 10 student to tackle his assignments from home. For the summer, I am putting my new Education Degree to work and volunteering to coordinate the one-on-one tutors for the summer. We are working to match free online resources to next year's subjects so students will get a preview of what they will learn next year. My organizational skills are hard at work building spreadsheets and folders to equip other amazing volunteers to do great work this summer.
I am grateful to CBFY for all the hard work they do. I have met some wonderful humans in the clients I work with, the fellow volunteers, and the tireless staff. I am excited to watch the tutoring program continue this summer!" Kessa Den Hoed.
Learn more about our volunteer opportunities here.