Mitzi Campbell – Volunteer of the Month – October
October 23, 2019 | Read Time: 4 Min. | Volunteer of the Month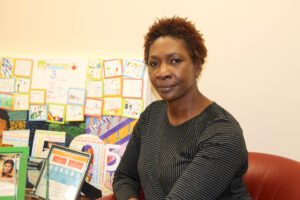 "Mitzi Campbell has been the Mentorship Program's Reception Centre guru! Mitzi comes with a wealth of knowledge and experience as it pertains to Addictions Counselling. Over the summer, Mitzi contributed to the successful registration of over 300 newcomer youth into our Welcome Information for Newcomers (WIN), and Newcomer Orientation and Welcome (NOW). Her caring and compassionate demeanour and approach to working with newcomer families at the reception centres has not gone unnoticed. Having Mitzi at the reception centres had a significant positive impact on the Mentorship staff. It allowed staff to focus their time on the planning and execution of programming knowing that our wonderful volunteer was taking care of the registration process.
We cannot thank Mitzi enough for her contribution to the success of our summer programs. Mitzi has continued to give her time volunteering with our program in preparation for year-round registration.
Mitzi, you are a rock star!" – Dixie Taylor, Nicole Colley-Lewis, and Ashley Vu, Mentorship Program staff.
Here is Mitzi's story:
"My name is Mitzi Campbell; I am the youngest of ten children born to my mother. I was born in St. Mary Jamaica West Indies in December 1965. Sponsored by my father and stepmother, I immigrated to Montreal in 1974 at the age of nine. I lived and went to school in Montreal for the first four years of my arrival to Canada before my family moved to Calgary in 1978. I was thirteen years old when we moved to Calgary and was nearing the end of grade six, last year of elementary school and bordering entry to Jr. High. Through many difficult and dark years following the wrong path without mentors and knowledge of all the resources available, I endured and finally at the age of fifty-two decided to go back to school for additional studies. My schooling coupled with my passion for people and advice from my instructor is what lead me to The Calgary Bridge for Youth.
I started volunteering for the Mentorship Program of CBFY at Kingsland Reception Centre of Calgary Board of Education. As part of my duties, I was given the responsibility of explaining the Mentorship Program to the newcomer immigrant and refugee youth and singing them to the Mentorship Program (both summer and regular programs). I was also given the opportunity to be hand-on at the Mentorship Summer Program, where I spent a week interacting with the youth, their peer mentors and the entire Mentorship Program staff. This invaluable learning experience allowed me the opportunity to gain a superior knowledge of the needs of this community as a whole. Currently, I am volunteering for the In-School Settlement Program of the organization at St. John Reception Centre of Calgary Catholic School District.
My true passion in life is geared towards making life easier for all our brothers and sisters around the world and making our earth a happier place to live and co-exist. I believe a person with the proper resources, help and guidance can become anything they want to be in life. As a helper part of that is being in-tune with what is taking place in my own society and other societies all over the globe. To equip me with the knowledge and tools needed to combat some of the issues plaguing the world today and in the past. I am finding out more about the resources in place and I am also taking an online course offered by the Immigration Mental health Project dealing with mental health issues of immigrants, refugees and newcomers with the intent of putting it all into practice. I grew up with the knowledge that if you scratch my back and I will scratch yours, we can all stop the itch" – Mitzi Campbell.
Thank you, Mitzi, for choosing CBFY and congratulations for being the Volunteer of the Month!
To learn more about our volunteer opportunities, click here.