Multicultural Newcomer Fair celebration
November 18, 2019 | Read Time: 1 Min. | Events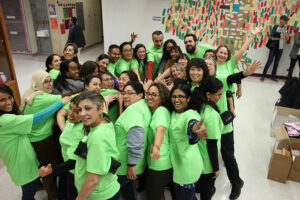 The Calgary Bridge Foundation for Youth (CBFY) recently held the 6th edition of the Multicultural Newcomer Fair at Bishop Grandin High School.
The Fair's theme, "Diversity + Engagement = Inclusion", attracted more than 600 people from diverse ethnocultural groups of newcomer families. The event offered various resources with 23 booths from different partner agencies and community groups and it provided opportunities for newcomer families to engage and build connections. It also offered many activities for the families like storytelling, Zumba for kids, arts and craft and puppet making – all at the Kids Corner. The Youth Zone offered retro-games while the shopping area had tons of clothing and household items for families to shop for free.
The meaningful event featured success story from an immigrant by Dr Hoda Kilani, inspirational messages from CBFY CEO Umashanie Reddy, CBFY-ISSP Manager Gord Cummings and Bishop Grandin High School Vice Principal Joseph Patrician.
The evening was capped by entertainment numbers from South Korean K-Pop dancers and Filipino cultural dance group. We thank our CBFY staff and volunteers who worked tirelessly for the successful staging of this event!