Nabamita Chowdhury – Volunteer of The Month – November
November 13, 2019 | Read Time: 1 Min. | Volunteer of the Month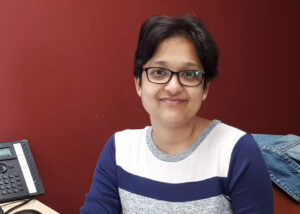 "Nabomita Chowdhury is a very friendly, dedicated person. She is always ready to support and do her best to help others. She is very professional and proactive with us while working with our In-School Settlement Program (ISSP)"
Svitlana Dubovetska, In-School Settlement Practitioner of CBFY.
"Nabamita started her work with us since she was a practicum student with us from CIWA. During that time, she helped us for data entry at the ISSP administrative office. She managed to learn new skills and be a good team player. After she finished her practicum period, she has been volunteering for the In-School Settlement Program. She is a very punctual person and always stays positive. She is always ready to help every time I ask for her help. She is a dedicated volunteer and she is a very good asset to CBFY" – Katy Yazdanfar, In-School Settlement Practitioner.
Here is Nabamita's story:
"Remembering my Dad, makes me think of this quote… "Don't confuse your path with your destination. Just because it's stormy now doesn't mean you aren't headed for sunshine."
How silently he implanted the concept of empowerment, boldness, diligence in an infant soul. That Mantra is slowly flowing through every single vein in my body and now over flooding my heart. Still, I can remember those days when I just anchored in Canada. How painful those feelings were when I couldn't express myself clearly, even literally struggling to complete my daily tasks, only because of language limitations. Language became a great barrier in my life. I became so frustrated when I failed to harmonize my dream with my reality. It was just like sailing a vessel in the middle of the ocean without any directive compass. And every moment, the deep salinity of the Blue Sea swallows me… I am sinking … sinking and sinking….
With endless fear in a foggy mind, I slowly drew a pathway of my goal. I started my language learning course at Maple Leaf Academy and Bow Valley College. After successful completion of the language course, I enrolled in a program at CIWA named "Bridge to success for Professional Women" and one of the parts of my program was a practicum at any Canadian workplaces. Fortunately, I was selected as a practicum student of the Calgary Bridge Foundation for Youth (CBFY). First of all, I must say that the working environment of CBFY is so friendly and helpful. Each of the employees of CBFY keeps its vision in their conduct. They are so supportive and understanding. They are so respectful to the immigrant's families and to their co-workers. If I want to express my experience to work with CFBY in one sentence, I would have to say it is a completely healthy working environment.
Since I was a student of Bow Valley College, I have been engaged in volunteering with different organizations like Calgary Immigrant Women's Association (CIWA), Calgary Drop-In & Rehab Centre Society, Calgary Catholic Immigration Society (CCIS) and the Calgary Bridge Foundation for Youth (CBFY). There are two important thoughts about doing volunteer work in so many different places. One is when I saw other immigrants and listened to their stories, I found a similarity with my struggle. I could feel their pain and reasons for frustration. So, it gave me a chance to work with them and gave them hope that they are not the only one. We are so many people dealing with this transition period and still, there are so many reasons not to be frustrated. The second reason is, volunteering is the easiest way to get experience in Canadian workplaces where you will need to conduct a job interview.
Here I want to look back to the first page of my story where I talked about diligence. I would say keep your dream in the deepest place of your heart, be focused on it, do the best thing you could do. Your time will come to your door soon. I know, I am just halfway to reaching my goal and this "Volunteer of the month of CBFY" award is another gold coin added in my sack." – Nabamita Chowdhury.
Thank you, Nabamita, for choosing CBFY and congratulations for being the Volunteer of the Month!