Nicky Ford – Volunteer of the Month – August
August 16, 2019 | Read Time: 3 Min. | Volunteer of the Month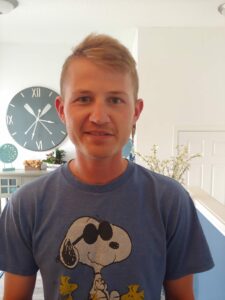 Nicky Ford, born and raised in the UK, moved to Canada in 2013. He started volunteering with CBFY in July 2019. Nicky hopes to become a teacher and is beginning Bachelor of Education at Mount Royal University in September.
"Nicky started volunteering with Nickle School for the summer program in July 2019. In a very short time, he quickly established strong relationships with staff and students in the program. He especially excelled in creating an inclusive environment by being attentive to students with behavioural/ emotional issues. He was always willing to jump in with different classes, which showed initiative and adaptability. Nicky showed enthusiasm towards the program by communicating his interest in continuing to stay involved in the future. He was only able to volunteer once a week but made a lasting impact with staff and students. We look forward to working with Mr Ford again!" Faiza Choudhary and Nicole Enright, Afterschool Program Coordinators.
Here is Nicky's story: "Originally from the UK, I moved to Calgary in 2013 through a program known as a working holiday visa. I knew Canada was the place I wanted to make my home and spent one year in Calgary before moving to BC for two years where I achieved permanent residence status in 2017. After some travelling around the UK and New Zealand, I returned to Calgary in August 2018 to begin my long term goal of becoming an elementary school teacher.
I was in a very lucky position to be able to move to Canada and become a permanent resident through a skilled workers program and always have the option to move back home to be with friends and family anytime I want. I am also fortunate that I come from an English speaking country with a very similar culture, so the transition into the Canadian lifestyle was very easy. I recognize that many immigrants don't have an easy option to return and have faced troubles that have led them to move to Canada. They also may have to learn a very different culture and way of life that they were used to, maybe not knowing English as a first language or even at all.
Volunteering with youth has always been very important to me, so I began seeking
opportunities in Calgary where I could help out. Your organization was an easy choice for me as it seemed like a great way to use my experience of immigrating to Canada and help youth have an easy and fun transition into this amazing country that we all now call home.
As soon as I walked through the doors of CBFY for my training I knew I had made a fantastic decision. The staff are extremely friendly, helpful and fun. This helped me easily get back into the swing of working with children in groups and I felt like I fit in instantly. I was able to offer one-on-one support to some of the children I worked with, and help free up facilitator time so they could focus on the rest of the group. I hope that I can continue to be a part of this wonderful organization for a long time." – said Nicky.
Thank you, Nicky, for choosing us and congratulations for being the volunteer of the month!
To learn more about our volunteer opportunities, please visit Volunteer with Us page.