Nicola Dahlin – Volunteer of the Month – February
February 18, 2021 | Read Time: 1 Min. | Volunteer of the Month, Volunteers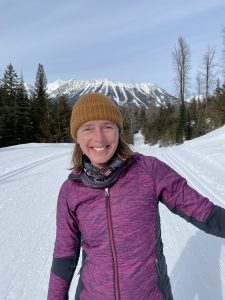 Nicola Dahlin has been volunteering at CBFY since 2019. She is selected as the CBFY Volunteer of the Month for February 2021.
Here is Nicola's volunteering story:
"Originally from the UK, I came to Canada sixteen years ago. My husband is from Norway and we'd lived in The Netherlands for a number of years before emigrating to Canada. We now have three teenagers, the younger two born here, and the eldest born in Europe. Having resettled a number of times, I know how challenging it can be to navigate a new community with unfamiliar education, health and employment landscapes.
My volunteer journey began in 2015 when I helped with Calgary's Syrian Refugee Project. Through that volunteer role, I became aware of the range of valuable immigrant support agencies in the city, including the Calgary Bridge Foundation for Youth.
As my own children moved through the school system, I helped them with homework and became familiar with the Alberta curriculum, which can be quite complex and difficult to make sense of. I joined CBFY towards the end of 2019 and am currently tutoring a wonderful group of three grade seven students" Nicola Dahlin.