Nicole Sarden – Volunteer of the Month – October
October 14, 2020 | Read Time: 2 Min. | Volunteer of the Month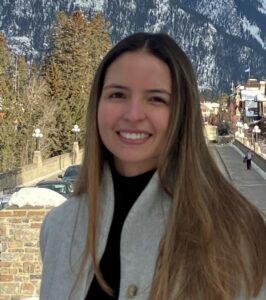 Nicole Sarden has been volunteering at CBFY since 2019 in different roles. She is selected as the CBFY Volunteer of the Month for October 2020.
Here is Nicole's volunteering story:
"My name is Nicole Sarden and I am originally from Colombia. I came to Canada 6 years ago to start my undergraduate degree at the University of British Columbia. I moved to Calgary in 2019 to start my Masters at the University of Calgary and I was looking to continue my involvement in the community as I had done in Vancouver and Colombia for so many years.
I found The Calgary Bridge Foundation for Youth and immediately connected with their mission. I first enrolled in the Transitioning-Into-Post-Secondary (TIPS) Program, where I got to engage and developed a mentoring relationship with a first-year undergraduate student and supported her transition into a career in health care. After the TIPS Program ended, I decided to continue to volunteer as a tutor in the Afterschool Program where I engaged and connected with youth from diverse backgrounds and supported them throughout their studies. During the COVID-19 pandemic, I continue to provide online support to two newcomer students. Although these students struggle with English and are at times frustrated by their schoolwork and even properly communicating with me, we have persevered; I have patiently assisted them through English lessons, which have increased their confidence in communicating and engaging with their classmates and teachers! In one particular session, my mentees shared with me that their favorite things about Canada were freedom and education, even though they found it hard to adapt to Canadian culture. This conversation, along with many other experiences with the youth, helped me become more aware of the challenges faced by immigrants and the ways I can make a positive impact by supporting them throughout their journey.
I am very grateful to be a part of CBFY and the youth, fellow volunteers and staff I have met along the way. I hope to continue to be involved with the foundation for as long as possible as by mentoring and tutoring immigrant youth and helping them settle, I strive to make a difference in their lives by providing access to resources, information and mentorship relationships and help them integrate into Canadian society, just like I did!" — Nicole Sarden.
Learn more about our volunteer opportunities here.