Nour Hassan – Volunteer of the Month – September
September 18, 2020 | Read Time: 2 Min. | Volunteer of the Month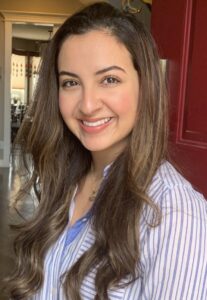 Nour Hassan has been volunteering at CBFY since 2018 in different roles. She is selected as the CBFY Volunteer of the Month for September 2020.
Here is Nour's volunteering story:
"My name is Nour Hassan and I am originally from Egypt. Since immigrating to Canada 10 years ago, I've been very privileged in the life I got to live and the opportunities I was given along the way. As a result, I have always prioritised helping those less fortunate than me and serving my community to the best of my ability.
In 2017, my friend and I hosted and organized volunteer-led summer camps for over 50 refugee kids, as well as provided recreational and social activities throughout the year. Through this experience, I was introduced to the challenges they face as they integrate, gained a heightened sensitivity to the trauma that some of them experienced pre-settlement and developed a strong passion and dedication for helping immigrants and refugees better integrate into the community and achieve their potential.
Seeing first-hand the positive impact we had on these kids, I decided to join The Calgary Bridge Foundation for Youth (CBFY) in 2018 as a tutor in the Afterschool Program, where I was able to engage with youth from many backgrounds and support their educational development. Recently, I was assigned to two sisters in grade 10 through CBFY's One-on-One Tutoring Program that took place online. Seeing as the language barrier hindered their ability to engage in class and understand their assignments, coupled with the challenges of navigating the online world during the pandemic, I was very happy to pursue virtual tutoring. I tutored in Arabic to adapt the material to their level and helped them catch up on their schoolwork. My tutoring experience has been very rewarding; I've built a strong bond with my students and I take pleasure in knowing I am contributing to their academic success & sense of belonging, as well as mentoring and empowering them to be leaders in their community.
I'm very grateful to be part of CBFY's vision and incredible team, and I look forward to continuing making a difference in the refugee and immigrant community!"—Nour Hassan.
Learn more about our volunteer opportunities here.