Paul Ryan Abanilla – Volunteer of the Month – May
May 25, 2020 | Read Time: 3 Min. | Volunteer of the Month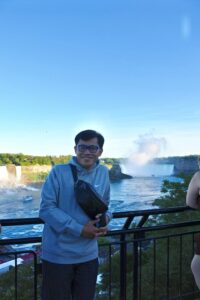 "Paul Ryan Abanilla epitomizes the Bridge Values. He spoke kindly and politely to all staff and volunteers and he fostered a sense of belonging with the entire group. He showed respect to other members of the group and carried himself with determination. He had shared that he was formerly experienced at setting up corporate and celebratory events and is currently enrolled in Bow Valley under the Event Management course. He showed his Integrity by leading others and giving clear instructions. He also showed Inclusion and collaboration by his willingness to work with different people and may task of setting up, preparing donations, in helping sort the clothes and household items before the event. He has been volunteering several times with Bridge and I do hope I see more of him in the future"
— Geminina Datu, In-School Settlement Practitioner.
Here is Paul's story:
"My name is Paul Ryan Abanilla from Manila, Philippines. I've been living here in Calgary, Alberta since 2018. I moved here to Calgary to study at Bow Valley College and am currently taking the Business Administration Diploma, General Business Major specializing in Event Management.
Moving here in Calgary alone was a tough decision for me and my family, as we Filipinos are well-known to be family-oriented. In my first year here in Calgary, it was really hard for me to adapt to the culture as well as to the ever-changing weather, but thanks to my new-found friends at Bow Valley College, I eventually learned the ins and outs of being an international student here in Canada.
I have always been actively participating in different volunteering events in our school since my senior high years. I was involved in different activities such as gift-giving and community services. Association de Damas de Filipinas was one of the places that I served as a volunteer. I helped the organization provide the homeless with their necessities. Hospicio de San Jose is also another organization that is special to my heart because, aside from being the oldest charitable institution in our country, it is also a care institution for the orphans, the abandoned, those with special needs, and the elderly. After getting a job, I continued to help by doing community services in different places.
Now that I'm in a different place, I decided to continue my volunteering, and I'm quite eager to learn how to be a volunteer here in Canada. I'm also very excited to participate in events preparation as this will significantly help me pursue my dream. Thank you Calgary Bridge Foundation for Youth (CBFY) for allowing me to be a part of your team and contribute my skills to the community" Paul Ryan Abanilla.
Learn more about our volunteer opportunities here.