Similoluwa Bankole – Volunteer of the Month – March
March 17, 2021 | Read Time: 1 Min. | Volunteer of the Month, Volunteers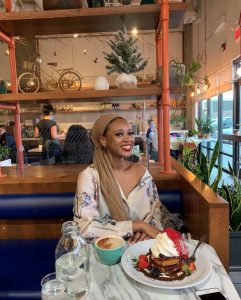 Similoluwa Bankole has been volunteering at CBFY since 2017. She is selected as the CBFY Volunteer of the Month for March 2021.
Here is Simi's volunteering story:
"My name is Similoluwa Bankole and I am a fourth-year nursing student at the University of Lethbridge. I was born in Nigeria and moved to Halifax, Nova Scotia with my family. Few years after moving to Halifax, my family decided to move to Calgary for better job and educational opportunities. Being a 10th grader that had just gone through 2 major migration in the span of 3 years, transitioning from the Nigerian and Nova Scotian curriculum into the Albertan curriculum was challenging and I needed extra tutoring with classes to aide my adjustment.
I learned about an opportunity to get tutoring, make new friends, and gain community support from people in similar situations as I was, so I joined the RBC Youth Empowerment Program at John G. Diefenbaker High School. Ever since, I have been volunteering with CBFY for community events, in registering clients for different programs, and I also worked as a summer camp facilitator for 2 years. Currently, I am volunteering as a Tutor for the One-on-One Tutoring Program where I provide individualized tutoring support to the students I am matched with.
I am privileged to be able to give back through volunteering to tutor students that need extra help with school work as I was once in that position. This has been a fulfilling experience of philanthropy in our little ways as tutors and volunteers to help guide the next generation of professionals and entrepreneurs emerging into their purpose" Similoluwa Bankole.