Tanaeem Rehman – Volunteer of the Month – December
December 16, 2019 | Read Time: 5 Min. | Volunteer of the Month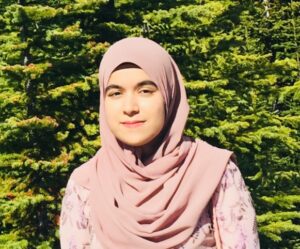 "Tanaeen is a valued volunteer in the RBC Youth Empowerment Program. She is very punctual and comes to program regularly to tutor math and science. She is very friendly and approachable with the students and comes alongside them to support their scholastics needs. Since she is in university, she is a great role model for the youth and shares her experiences as a biomedical science student and gives them advice on post-secondary education. She goes the extra mile and makes sure that she is a building relationship with the youth so they trust her and feel safe to ask her questions.
She is an amazing asset to the team and valued by the other tutors as great support. As a long term volunteer who has shown so much dedication and commitment to the RBC Youth Empowerment Program, I would like the opportunity for her to be awarded Volunteer of the Month" – Catherine Clark, Afterschool Program Coordinator.
Here is Tanaeem's story:
"My name is Tanaeem Rehman and I am a 3rd-year student studying Health Sciences at the University of Calgary. I have been volunteering as a tutor with the RBC Youth Empowerment Program at John G. Diefenbaker Highschool for approximately a year now. I tutor students in a variety of subjects including English, while mainly assisting students with science subjects such as Biology and Chemistry. I have always loved school and I am highly passionate about teaching and learning, specifically peer mentoring and student-centred learning.
As someone who immigrated to Canada while I was in elementary school, I see myself in a lot of the students that I tutor. I can relate to their struggles, concerns, ambitions, and their eagerness to learn and succeed. Immigrating to Canada exposed me to many changes in life, however, one of the things that remained constant was my passion for learning and school became a place where I could challenge myself, pursue my interests, and grow. I've been fortunate to have always had great educators who've supported my goals and believed in me and my abilities to do great things. As well, through the example set by my parents and the values instilled by them, I have learned the importance of dedication, hard work, and resilience and these are the foundation of everything I've accomplished and continue to work towards. Therefore, through my role as a volunteer, I hope to give back and support students similar to how others have helped me, to share my experiences with them in hopes that it can benefit them in some way, and to inspire them to love learning as much as I do!
I love the fact that every one of my volunteer shifts involves a new experience where I am able to interact with different students who are at varying stages of their academic careers and have unique strengths and goals. When I interact with students, I ensure that they walk away feeling empowered, capable, and confident in their abilities. I ensure that students not only walk away knowing how to solve the specific problem that they asked me about, but I ensure that I've explained concepts in a way that they can apply it to other scenarios on their own.
My favourite parts of volunteering are the following: 1) Witnessing students grasp concepts and having moments where they go, "Oh! I get it now …that makes so much more sense! I never thought of it that way!". 2) When students ask for help because they have an exam coming up and then they come back to me the following week, show me their exams, and share their successes with me! I love watching them improve and grow throughout the semester. 3) When students trust you enough to share their weaknesses and fears with you whether that might have to do with their lack of confidence in writing English essays because of previous criticism they've received or when they share their mindset of "I'm just naturally bad at chemistry". It feels very rewarding when students share their uncertainties with you and allow you to play a role in their learning and in helping them overcome their doubts. My goal is to always encourage students to shift their mindsets from feeling like they're naturally bad at a subject because of repeated failures or past criticism they've received to make them believe that they can accomplish anything they set their mind to as long as they work hard and ask for help!
I am very grateful for the positive experiences that I've had while volunteering with the Calgary Bridge Youth Foundation's RBC Youth Empowerment Program and I look forward to being involved for as long as I am able!" – Tanaeem Rehman.
Thank you, Tanaeem, for choosing CBFY and congratulations for being the Volunteer of the Month!
To learn more about our volunteer opportunities, click here.