Ted Rogers Fund Visits CBFY
December 12, 2017 | Read Time: 1 Min. | Afterschool, Inspiring Stories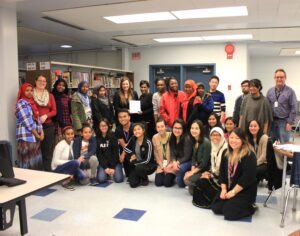 On December 11th, Sofia Pacione, a representative from Rogers visited the Homework Club at Forest Lawn High School. Our students were delighted to see Sofia and share their stories and accomplishments with her. To show their appreciation, the students created a collage of pictures and 'thank you' written in their languages to give to Rogers.
Without the Ted Rogers Scholarship Fund the Afterschool Program's NxtGen High School Homework Club would not be able to help students reach their highest potential academically, socially, and emotionally.
A big thank you to Rogers for their support with our goal in providing innovative programs and services for immigrant and refugee youth.