You Are Invited To The Multicultural Newcomer Fair
September 9, 2019 | Read Time: 1 Min. | Events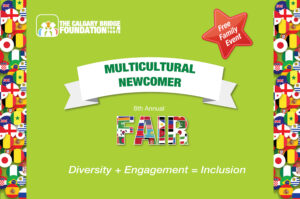 Let's celebrate diversity together! Multicultural Newcomer Fair is an annual family event presented by the Calgary Bridge Foundation for Youth.
The event will be held on November 15, 2019 (Friday) from 5:00 – 8:00 PM at the Bishop Grandin High School, 111 Haddon Road SW.
Learn about community resources for newcomers and job opportunities in the city, share experiences and meet new friends.
Enjoy Fun Activities, Win Door Prizes, Free Items & Giveaways.
REGISTER NOW! Arnida Guillermo: 403-990-2931 or Aguillermo@localhost, Fromen Bensing: 403-999-3880 or Fbensing@localhost.
Click here to learn more.