Youth Achievement Awards and CBFY Anniversary celebration is postponed
March 26, 2020 | Read Time: 1 Min. | Events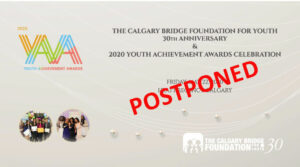 The Calgary Bridge Foundation for Youth 30th Anniversary and Youth Achievement Awards celebration is postponed. Health and safety of our students, staff and clients is our highest priority. With the ongoing news of coronavirus spreading in Alberta, we are cancelling the event scheduled for May 22. CBFY will reschedule the postponed celebration at a later date once it becomes safe to do so.
If you have any questions or concerns, please contact izhygimont@localhost
The Youth Achievement Awards is an Annual Signature Event of The Calgary Bridge Foundation for Youth (CBFY). Each year the organization receives donations in the form of 30 scholarships and these scholarships are presented to exemplary youth recipients who are about to transition into post-secondary education.