About CBFY
Youth thrive and not merely survive
Mission, Vision & Values
The Calgary Bridge Foundation for Youth (CBFY) is a charitable not for profit youth-centred and a family-focused hub that originated in the year 1990 and supports over 12,596 individuals annually.
For 30 years CBFY has provided a welcoming and inclusive environment for immigrant and refugee children, youth and their families by enriching them with the appropriate skills, information, knowledge and experience as they build a life in Canada.
Our core value statement and what drives our passion is "Youth Thrive and not Merely Survive".
CBFY takes their inspiration from Maya Angelou –"My mission in life is not merely to survive, but to thrive; and to do so with some passion, some compassion, some humor and some style".
This personifies the characteristics of great men and women of CBFY who channel their energies into the betterment of all our clients.
Our values are captured in the following acronym "BRIDGE":
Belonging. Provide a safe and welcoming space and give power of voice and a sense of belonging.
Respect. Respectful behaviour in our pursuit of excellence and learning.
Innovation. Strengthen our relevance through innovative practices.
Diversity. Honour and model diversity.
Generosity. Encourage a culture of generosity of spirit.
Excellence. Inspire a culture of excellence and learning.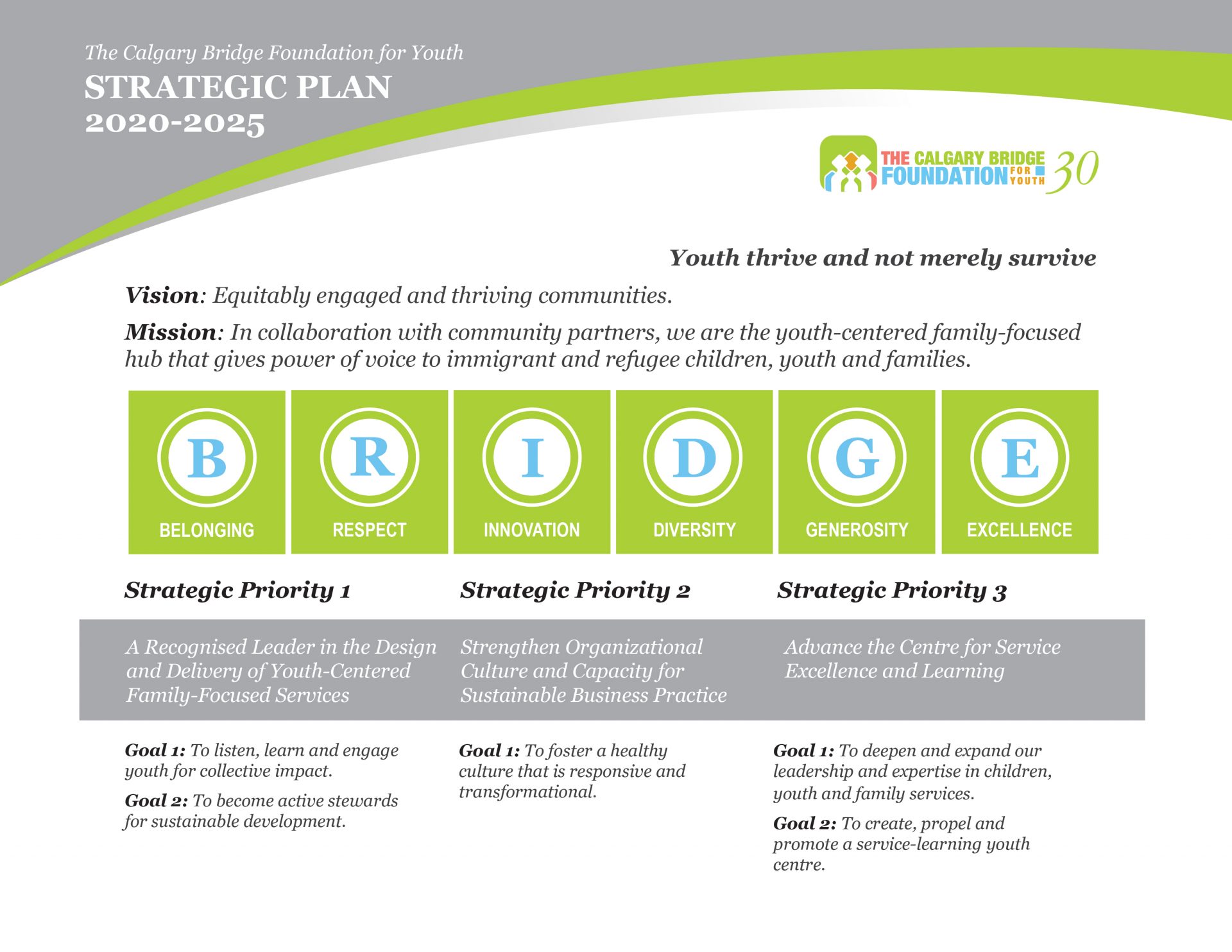 CBFY's team is made up of over 70% first-generation and 30% second- or third-generation immigrants and refugees who understand first-hand the importance of integration programs. They've personally faced the trials and tribulations families face when settling in Canada and CBFY has welcomed many of their children in the summer programs or as tutors to solidify their sense of belonging in the community.
Frank Cattoni, Chief Executive Officer

Chief Executive Officer
fcattoni@cbfy.ca

Frank is the Chief Executive Officer of the Calgary Bridge Foundation for Youth (CBFY), a passionate and caring leader, supporting the important work in serving immigrant and refugee children, youth and their families.

Frank has a unique ability to connect and create collaborative solutions in community settings. He has a proven track record of breaking down silos at the intersection of justice, healthcare, social services and the not-for-profit sector. As a thought-leader, he has embraced creativity in his work to champion innovation in the field of social justice and has helped to launch over half a dozen multi-million-dollar programs.

Most recently, Frank was the Executive Director of the Safe Communities Opportunity and Resource Centre (SORCe) – a multi-lateral, multi-disciplinary team of subject matter experts from 14 agencies. Frank was also the system architect of the Cross Roads Centre, bringing together The Indigenous Hub, SORCe, and the AHS Mental Health and Addiction Service Centre to provide social services in Calgary's core.

Prior to SORCe, Frank had a successful 25-year career with the Calgary Police Service using a client-centered approach to divert young people, those suffering from trauma, addiction, homelessness, and mental illness away from the justice system.

Frank holds a Bachelor of Arts degree from the University of Calgary, and numerous certificates in leadership, project and change management, and public affairs. A passionate and long-time resident of Calgary, Frank is active in the community and has volunteered for many years in the not-for-profit sector, including serving on the board of Woods Homes Calgary.
Lorraine Kinsman, Director of Programs

Director of Programs (Settlement Workers in Schools and Afterschool Programs, Volunteer Resources Program)
LKinsman@cbfy.ca
Cristina Balamban, Director of People and Culture
Sharon Sprinkhuysen, Director of Finance
Riti Balchandani, Program Manager - Communities
Board of Directors
Our board is selected by our Board Recruitment Committee following a referral to the committee chair. They are screened and then nominated at the annual AGM. Their values and experience support CBFY's organizational goals.
Kate Thorgeirson, Chair

Kate is a Human Resources Business Partner with BMO Financial Group serving the Private Wealth Prairies Region, based in Calgary. In her current role, she partners with the Regional President of Private Wealth and regional leadership teams in the development of integrated HR solutions to address business needs and increase organizational effectiveness. Prior to joining BMO, Kate worked with a global oil and gas company in a variety of project management and HR roles, and an executive search firm, building experience in communications, program and change management, and recruitment. Kate is passionate about fostering learning mindsets, creating supportive working environments, and building diverse leadership teams.

She holds an MBA and Bachelor of Commerce degree from the University of Calgary. She has served on the board of the Calgary Bridge Foundation for Youth since 2017, and is the prior Chair of the Human Resources Committee and the Nominations Committee.
Shannon Stannard, Vice-Chair

Shannon has returned to Calgary after spending 6 years abroad in Malaysia and Australia. She is an educator and has enjoyed working and volunteering in various educational settings all over the world. Currently, she is the managing director of the ARK Foundation, supporting youth education and wellness both locally and internationally. Shannon holds a Bachelor of Education from U of C, and a Certificate in International Development from UBC. Before returning to Calgary, she served on the Board of Directors for John Paul College in Brisbane, Australia.
Doug Alder, Treasurer

Doug Alder is a Chartered Professional Accountant and is an executive finance leader with 25 years of experience. His career has included roles as CFO, international head of finance, and senior manager in external audit and corporate advisory services. Doug has worked closely with executive management and diverse teams in 13 countries, and completed an international assignment where he and his family lived in Singapore. Doug is focused on developing and implementing financial strategies, supporting the professional development of the people he works with, and enhancing performance management and business processes.
Jatin Shory, Secretary

Jatin Shory is an immigration lawyer in Calgary, Alberta with a strong practice in litigation, which involves appearances at the Federal Court of Canada and the Immigration and Refugee Board of Canada through proceedings at the Immigration Division, the Immigration Appeal Division, and the Refugee Protection Division. His involvement with the Calgary Bridge Foundation for the Youth began as a young student volunteer back in 2006 for the summer program. Following this experience, Jatin attained his Bachelor of Arts from Queen's University in Kingston, Ontario and later pursued further education, receiving his Juris Doctor from Thompson Rivers University Faculty of Law in Kamloops, British Columbia.
James Shore, Past Chair

Jim has held various banking roles in his career, spanning operational units from commercial risk to retail branch management. In his current role, he is responsible for a group of commercial bankers whose primary focus is to serve the needs of the Albertan business community. Jim has taken that banking focus to the non-profit work he does and has a particular passion for micro-finance. In his professional and volunteer experience, Jim has played key roles in leading change management initiatives, determining strategic priorities and implementing the plans necessary to achieve organizational goals. He holds an M.B.A. from Cornell University.
Ellen Cook, Director

Ellen is the Human Resources Manager at Spartan Delta Corp., an innovative and ESG-focused energy company headquartered in Calgary. She has worked in the energy sector since 2010 and is active in the HR community. Prior to moving to Calgary, Ellen lived in Saskatoon helping foreign-trained professionals at the Saskatoon Open Door Society and doing front-facing client support with Service Canada. She is passionate about connecting with people and making everyone feel included in their workplaces and communities. Ellen has a Bachelor of Studio Art from Concordia University in Montreal, a Certificate in Human Resources Management from Mount Royal University and is a Chartered Professional in Human Resources.
Greg Coulas, Director

Greg Coulas is a Business Advisor at Stawowski McGill. Here he collaborates with business owners and management teams to bring clarity, confidence, and control to take businesses to the next level. This is accomplished through providing financial leadership as well as the facilitation and implementation of strategic initiatives. Greg has an undergraduate degree from St. Francis Xavier University as well as a Chartered Professional Accountant (CPA, CA) designation. He believes strongly in forming close relationships in order to make an impact on the lives and businesses of those he works with.
Michael Morcom, Director

Michael Morcom is a Financial Services lawyer and partner in the Calgary office of Miller Thomson. Michael's practice is dedicated to financing transactions, including Personal Property Security Act issues such as granting security over personal property, claiming, defending, and adverse implications of purchase money security interests, the negotiation of priority agreements and intercreditor agreements between multiple secured parties, auto finance, real estate lending and general commercial lending. Previously, Michael had a general litigation practice with a focus on the areas of personal injury and insurance litigation, including defence of third-party claims, coverage disputes, and long-term disability litigation. Michael appeared at all levels of court in Alberta and has resolved matters through both private and judicial mediation.
Kristi Sebalj, Director

Kristi has lived most of her life in eastern Canada (Ontario and Nova Scotia), but since 2018 she calls Alberta home. A lawyer by trade, her professional experience has been focused on the energy sector for more than 20 years, working in private practice as well as in the public service, most recently as in-house legal counsel and Registrar at the Ontario Energy Board and now as a Commissioner at the Alberta Utilities Commission. Kristi holds both a Bachelor and a Master of Science from McMaster University and a Bachelor of Laws and a Certificate in Marine Environmental Law from Dalhousie University. She is called to the bar in Ontario and in Nova Scotia.
Matthew Klukas, Director

Matt is a Managing Director for Criterium Group, a management consulting firm based in Calgary, and is responsible for the firms growth in the Asia Pacific region. In this role he works with executives to transform their business by defining and delivering their strategic objectives. Prior to joining Criterium Group, Matt was based in Singapore with a global energy company and worked closely with regional leaders to identify and execute mergers and acquisitions. Throughout his career Matt has worked with diverse multinational teams and enjoys bringing people and groups together to achieve a common objective. He graduated from the University of Alberta with a Bachelor of Science degree and holds an MBA from the University of Calgary.
Duncan MacRae, Director

Duncan MacRae is a Director with Alvarez & Marsal Canada in their corporate restructuring practice. He has over eight years of accounting and financial experience, including five years of turnaround and restructuring experience throughout Alberta's 2015-16 energy related recession. In these roles, he has provided strategic advice to debtor companies, secured lenders and other stakeholders in complex restructuring situations. Duncan is a Licensed Insolvency Trustee, a Chartered Professional Accountant (CPA, CA) and holds a bachelor's degree from St. Francis Xavier University.
Sarita Barrett, Director

Sarita is a Management Consultant with over 25 years of business and consulting experience. She specializes in audits and assessments of major programs and strategic direction for business units within large organizations. She has managed and led teams for large, major transformational programs for organizations including merger and acquisitions, disaster recovery and incident response planning, cyber security strategy, risk management, regulatory, governance and operational compliance. She has been on the board for Family and Community Support Services for Rockyview since 2015 and has held the Chair, Vice chair positions. She has completed the Administrative Law and Assessment Training and currently sits on the Assessment Review Board for Rockyview. She was also a Board Member with Helping Hands Society of Cochrane, as well as the Immigrant Services Committee at Rockyview. Sarita holds a Bachelor of Science degree and is a designated Project Management Professional (PMP).
Kathleen Hurtubise, Director