Frank Cattoni Awarded the Queen Elizabeth II Platinum Jubilee Medal
January 31, 2023 | Read Time: 1 Min. | Awards, Inspiring Stories, Staff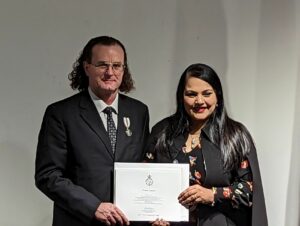 We had the pleasure to have a sit-down conversation with the Chief Executive Officer, Frank Cattoni, of the Calgary Bridge Foundation for Youth. On Sunday, January 29 2023, Frank received the Queen Elizabeth II Platinum Jubilee Medal, recognizing his achievements and dedication to public service. Frank was nominated by the Centre for Newcomers, and he received his award at a ceremony there from Alberta's Minister of Trade, Immigration and Multiculturalism, Rajan Sawhney.
Frank began his public service career as a Police Constable with Calgary Police Services. He became the Executive Director of the Safe Communities Opportunity and Resource Centre, also known as SORCe, for 6-½ years, representing CPS at SORCe. SORCe continues to be a multi-collective of support that emerged from the grassroots efforts of numerous agencies coming together to offer supports and programs in one common location, onsite, for vulnerable, marginalized and homeless individuals. These supports, offered on a walk-in basis, address barriers to stable housing as well as issues related to addictions, mental health and lifelong learning. Frank was the first Executive Director of this collective.
"It was the only one of its kind of in Canada at the time (2013), and we had a lot of people come and look at what we were doing – they were exploring what a policing agency was doing to deal with homelessness in a different manner," Frank explained. "The reality was that we had basically criminalized homelessness and we were putting people who have severe mental health issues into jail and not treating their illnesses right."
"Bringing 14 agencies together gave us the ability to move people within a 'brick and mortar' storefront space to do what's called a 'warm hand off" – moving a person for example, who's just been working on their addictions to someone else who is a mental health clinician and then moving them to someone who can support with housing, all in one place on the same day," Frank continued, sharing a clear picture of the story of SORCe.
"There were several agencies that joined and left and then we built a partnership with the Aboriginal Friendship Centre too. Eventually, they started to run 16 different Indigenous-based programs out of that facility, and we were able to take clients that we had worked with at SORCe and offer them support within the Indigenous Hub if they needed those supports. Our big three agencies were the CPS, the Aboriginal Friendship Centre and Alberta Health Services. We could move clients between these three big systems and that offered a form of integrated treatment that worked. It was this systems integration that felt so right and led me ultimately to retire from the Calgary Police Service and seek something different in the community." Frank speaks of this experience with pride for his accomplishments and the differences SORCe was able to make in the downtown core of Calgary.
SORCe continues to be located along the City Hall LRT Station, next door to the first partner to commit to the project, The Calgary Public Library. It is highly accessible and has been a significant success story in helping vulnerable Calgarians. Frank retired from CPS in 2020 and embarked on a new career direction in the non-profit sector, first as a consultant and then assuming the position of Chief Executive Officer with CBFY in 2021.
Frank's family immigrated in Canada late 1960's from Italy, and he brings the lessons he learned from being an immigrant himself to the work he does with CBFY. "I was blessed and got this beautiful job and I am able to take what I learned from my own lived experience when my family immigrated here from Italy in the late 60's," he explained. "In those days, the sector did not really exist and supports for newcomers were not as refined and as established as they are now. So, it was really wanting to give back to the community that drew me to CBFY, to be able to say, 'look, my family experienced going through the immigration process and now maybe there's a better way of helping new Canadians become familiar with Canada."
"The thought of working with CBFY was attractive because of my own lived experience – growing up, there were very few cross-cultural situations. I went to an elementary school in Calgary that was predominantly Italian, I went to a Junior High School that was predominantly Italian, I went to a high school that was predominantly Italian. That was my experiences, Italians moved into Italian-dominated neighbourhoods. It's different now and CBFY offers a better way to support young people to integrate into Canadian society together and build on each other's strengths regardless of where you come from."
When Frank reflected on his long career and personal trajectory in life, he noted, "So many different people played a role in supporting me in my academics or my athletics, even with my own culture, so the thing that gets me up in the morning every day is that desire to want to give back to the community – working in the non-profit sector is not going to make you a wealthy person but it will fill the need to give back to the community and that's what is awesome about this work."
Acknowledging the impact of the many mentors and guides he benefitted throughout his lifetime, Frank also clearly appreciates those who support CBFY youth and the immigrant/refugee non-profit sector overall. "This award is really not about me. Yes, I've got years of public service experience – decades! But the award is really about the work CBFY does, the staff and the volunteers, because without them, it would be impossible to meet the needs of newcomer youth. So, I might get awarded the medal but I need to thank all the people who support CBFY, including the incredible kids and clients who come to us for help, as well as the funders like IRCC, the United Way and the City of Calgary."
Frank's commitment to supporting newcomer youth in Calgary to successfully launch new experiences as Canadians reflects his own experiences as an immigrant, as well as his dedication to the integrated services approach that guided his work with SORCe, and the empathy required in his work with the Calgary Police Service. Frank continues to work from an integrated services perspective with the Calgary Newcomers Collaboration (CNC) where several agencies collaborate on a variety of projects to support the newcomer immigrant/refugee sector. The Centre for Newcomers is also part of the integrated services strategy embraced by the CNC, demonstrating their confidence in Frank's public service skills and abilities with their nomination for this prestigious medal that has been awarded to just 7,000 Albertans.
As our meeting drew to a close, Frank offered a message of encouragement to the newcomer immigrant/refugee youth who are supported by CBFY:
: "As you go through life, consider how to give back to the community too. Somebody gave you something – your parents had the courage to come over and stat a new life and this gives you another opportunity to give back to the community, whether it's a leadership role as part of the Youth Advisory Council or supporting the agency as a volunteer as a tutor or in another capacity. Pay it forward – that is what I see as so awesome."
Along with the Calgary Bridge Foundation for Youth staff, volunteers, and partner immigrant providing services, we say congratulations to Mr. Frank Cattoni for years of excellent public service and for being awarded the well-deserved Queen Elizabeth II Platinum Jubilee Medal.
Authored by CBFY Media